Affiliate Chapter Event: Louisville Trumpet Guild
The University of Louisville (UofL) affiliate chapter of the International Trumpet Guild presented its sixth annual Trumpet Day event on Saturday, April 8, 2023, in Comstock Recital Hall at the UofL School of Music. The guest artist was Dr. Amy Gilreath, currently trumpet professor at the University of Illinois, Urbana-Champaign, and Professor Emeritus at Illinois State University. The event was hosted by Dr. Reese Land, trumpet professor at the University of Louisville. Over thirty trumpet players attended, with additional attendees at the final concert.
Dr. Land started the day with fundamentals session for both high school and university students. Later, he led a short mass trumpet ensemble rehearsal with all attendees, on the festive work entitled Soundings by Brian Balmages. Later in the afternoon, Land lead a masterclass, "Transposition and Sightreading." 

Guest Artist Amy Gilreath works with a masterclass participant
Dr. Gilreath presented a trumpet masterclass for the attendees, with many students presented with the opportunity to receive her ideas about trumpet pedagogy, style, and music history. Later in the day, Dr. Gilreath gave a very informative and interactive masterclass on performance anxiety. The students were very responsive to her thoughts and certainly left with many ways to cope with this issue.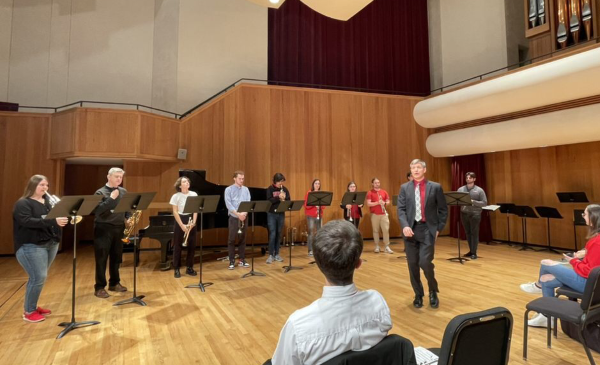 Host Reese Land works with a trumpet ensemble
Finally, the event concluded with a recital featuring the Mass Trumpet Ensemble and the UofL Trumpet Ensemble, Dr. Amy Gilreath, Dr. Land, and collaborative pianist, Jessica Dorman. The Mass Ensemble performed Soundings and the UofL Ensemble performed Earle of Oxford March by William Byrd, arranged by Mike Huff. Next, Dr. Gilreath performed a wonderful rendition of the first movement of the Concerto in D by Giuseppe Tartini, the complete Concertpiece No. 1 by Vassily Brandt, and A Time to Mourn for Solo Flugelhorn by Faye-Ellen Silverman. Dr. Land performed Fantaisie Brillante by J.B. Arban and the "Intermezzo" from Frank Proto's work entitled A Carmen Fantasy. The recital concluded with both artists on the duet Side Partners, by Herbert L. Clarke.
(Source: Reese Land)