In Memoriam: Dr. Richard Burkart (1931-2023)
The International Trumpet Guild has learned of the passing of Richard Burkart, Professor Emeritus at The Ohio State University in Columbus, Ohio.  He was instrumental in the early years of the ITG. 
With his colleagues Tom Battenberg and Robert Hightshoe, he co-hosted the 1980 ITG Conference at OSU.  He also served as ITG President (1985-87), two terms as Vice President and four as a member of the Board.  In 1988 Burkart was instrumental in the partnership between the ITG and The Columbus Foundation to establish the Ellsworth Smith International Trumpet Competition which he hosted at OSU in 1988 and 1994.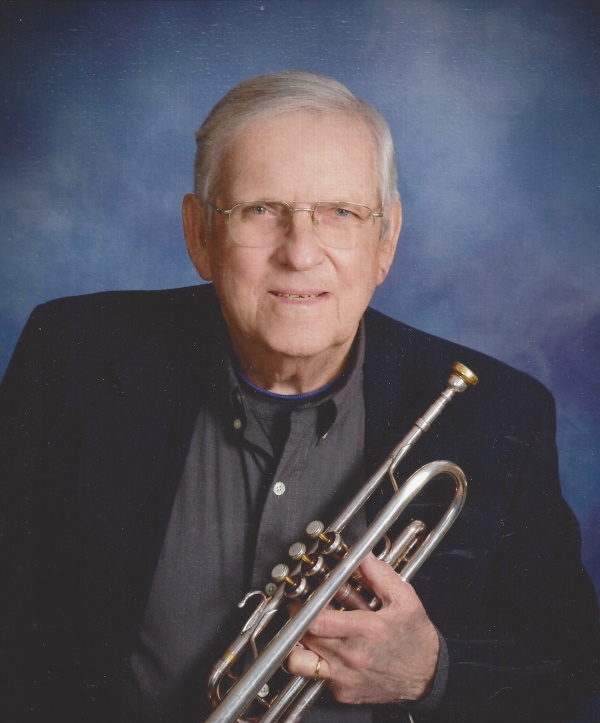 Richard Burkart
Richard E. Burkart was born in 1931 in New Orleans, LA.  He began practicing and studying the cornet at age 8.  He later attended Jesuit High School in New Orleans where he was appointed Solo Cornet in the Band and Orchestra.  Burkart later graduated from LSU in 1955 (BME Music Ed., BM trumpet performance, MM trumpet performance).  Upon graduation he was hired as the Professor of Brass at Lamar University in Beaumont, TX where he also played Principal Trumpet with the Chicago Little Symphony, and the Beaumont Symphony Orchestra.  After 14 years at Lamar, Burkart was accepted into the DMA program at the University of Wisconsin, a relatively novel degree at the time. 
After completing his doctoral degree in 1971, Burkart was offered the position of Professor of Trumpet and Graduate Studies in Brass at The Ohio State University.  In his new teaching position he played with the Columbus Symphony Orchestra, the Faculty Brass Quintet, the Lancaster Festival Orchestra, Ringling Brothers Circus, and the Robert Shaw tour of France in 1992.  He was also known to have played in and conducted the Longhorn Rodeo Band in Texas, Ohio and around the country.  In his retirement years Burkart returned to his musical roots from New Orleans as a member of the Toll House Jazz Band performing Dixieland Jazz around Central Ohio and touring Germany, Austria, and Italy in 1997.
Through his teaching at Lamar and OSU, Dr. Burkart has had a profound influence on generations of our nations outstanding trumpet players and teachers.  His former students have become highly respected band directors, soloists, service band members, orchestral musicians, as well as college professors of trumpet throughout the country. 
Above all his accomplishments, Burkart was a devoted family man, who raised six children and dealt with hardships that would have crushed a lesser spirit, including a daughter rendered quadriplegic in a car accident as well as his dear wife Janet's long battle with Parkinson's disease.
Richard Burkart died peacefully at his home on March 13, 2023.  He was 91 and was preceded in death by his wife Janet in 2014 and his daughter Elizabeth in 2018.
Those wishing to make contributions in honor of Richard are encouraged to donate to:
The Richard Burkart Trumpet Award - awarded annually to students for outstanding work in the trumpet studio at OSU.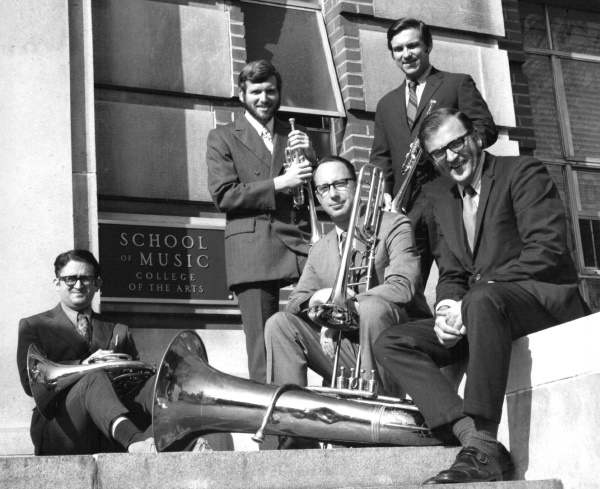 Ohio State University Faculty Brass Quintet in 1971
https://giveto.osu.edu/makeagift/details/313434?Source_Code=AGAG-OTH-S-ON-GivingHome
(Source: Daniel King)