Wisconsin Trumpet Guild Conference
The Wisconsin Trumpet Guild's second annual conference was hosted by Brent Turney on January 7, 2017, at the Noel Fine Arts Center on the campus of the University of Wisconsin at Stevens Point.
Adam Gaines, professor of trumpet at UW Green Bay, David Cooper, professor of trumpet at UW Platteville, and Kevin Hartman, professor of trumpet at UW Milwaukee all presented master classes.  John Urness, principal trumpet of Orquesta Sinfonica del Estado de Mexico, (and Wisconsin native) presented a recital.  John Daniel, professor of trumpet at Lawrence University and Brent Turney, professor of trumpet at UW Stevens Point, presented a joint recital.  International soloist Rex Richardson was the featured artist for the conference. Richardson presented a master class, participated in the roundtable discussion, and was the featured soloist with the Central Wisconsin Jazz Ensemble in concert that evening. 
The third WTG Conference will be February 17, 2018.  
Master class with Adam Gaines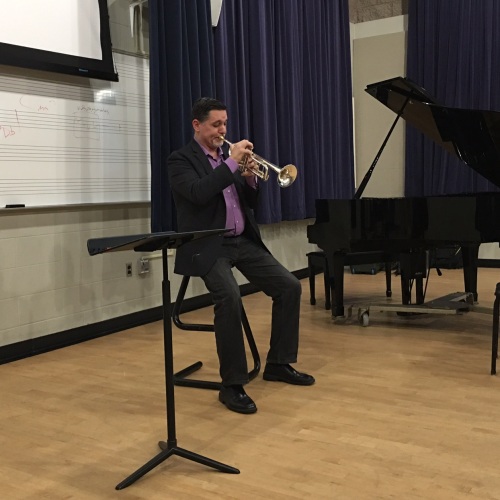 Rex Richardson master class
John Daniel, Brent Turney, Rex Richardson, Adam Gaines, David Cooper, Marty Robinson
 Source: Brent Turney