Brazilian Trumpet Association: new ITG Affiliate Chapter
The Brazilian Trumpeters Association (Associacao Brasileira de Trompetistas—ABT), organization that serves teachers, students, amateurs, and professional Brazilian trumpet players, recently became an ITG affiliate chapter.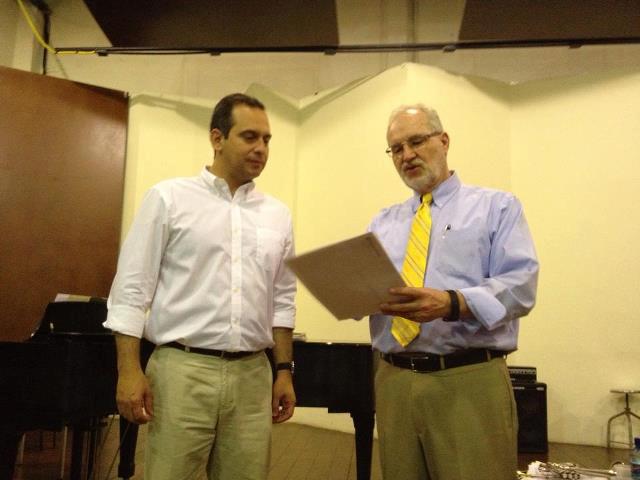 As part of the commemoration of this new affiliation, ITG President Kim Dunnick went to UNIRIO (Rio de Janeiro, Brazil) where he presented a master class and certificate of association.
Dunnick's master class was hosted by Professor Nailson Simoes. He opened by performing a work composed originally for trumpet and strings by Handel. Dunnick spoke about baroque ornamentation, and advised students on aspects of trumpet playing. He also discussed the importance of learning by listening to each other and by reading.
Later Dunnick expressed his personal satisfaction of seeing the growth of Brazilian Trumpeters Association. Prior to presenting the certificate to the Associacao Brasileira de Trompetistas ITG Affiliate Chapter to recently elected President of ABT, Dr. Thadeu J. Silva Filho, Dunnick spoke about a similar experience in Australia thirteen years ago, and how the existence of ATG has been positive in many ways. Every year ABT expands its scope through different means including annual conferences with guests such as Charles Schlueter, Gabrielle Cassone, Claudio Roditi, Reinhold Friedrich, Ole Antonsen, Adam Rapa, Andrew Balio, Rex Richardson, Andrea Giuffredi, Mireia Ferrez, Jorge Almeida, Pacho Flores, and important Brazilian artists including Ayrton Benck, Fernando Dissenha, Heinz Schwebel, Joatan Nascimento, Flavio Gabriel, Moisés Alves, Fabio Brum, Jessé Sadoc, Nailson Simoes, Daniel Alcântara, and Altair Martins.
Source: Thadeu J. Silva Filho