Charlie Geyer and Barbara Butler Receive ITG Honorary Award
The ITG Executive Committee and Board of Directors are happy to announce that Charlie Geyer and Barbara Butler have been awarded the ITG Honorary Award in recognition of their unparalleled contributions to the global trumpet community. On May 12, 2023, Jason Bergman (ITG president) and Mary Thornton (member, ITG Board of Directors) presented the award in person to Mr. Geyer. Mrs. Butler will formally receive the award at the 2024 ITG Conference in Anaheim, California.
Charlie and Barbara are among the most successful trumpet teachers in the history of our instrument. They have countless students performing professionally in most American orchestras and teaching at institutions worldwide. Their performances with the Chicago Symphony, Music of the Baroque, and Grand Teton Music Festival have been enjoyed by audiences for decades.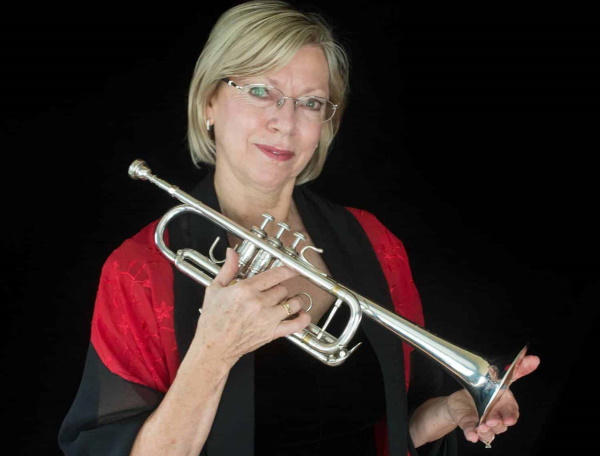 Barbara Butler



Charlie Geyer
Charlie Geyer began trumpet lessons at age six. Between the ages of seven and ten, he played in the highly esteemed band program in Joliet, Illinois. By age twelve, radio performances in Peoria, Illinois, hinted at his future professional career. While attending Northwestern University, he performed as principal trumpet with Chicago Lyric Opera. He joined the Chicago Symphony Orchestra following his senior year. During his twelve years with the CSO, he was principal trumpet with the Grant Park Symphony Summer Orchestra, and the Houston Symphony engaged him as principal trumpet in 1978, where he performed for three seasons. 
Geyer received both bachelor's and master's degrees from Northwestern University. His teachers were Herb Stoskopf, Adolph Herseth, and Vincent Cichowicz. 
Geyer served as professor of trumpet at the Eastman School of Music and was a member of the Eastman Brass from 1980 through 1998, when he took the position of professor of trumpet at Northwestern University. In 2013 he began as trumpet professor at Rice University. 
Geyer is a frequent recitalist and soloist with orchestras and music festivals throughout the world. He has recorded and played on international broadcasts with the Chicago, Houston and Grand Teton Symphony Orchestras, as well as the Eastman Brass, Music of the Baroque, and Chicago Chamber Musicians. 
Barbara Butler is Professor of Trumpet and Director of the Artist Diploma Program at Rice University's Shepherd School of Music. Previously Professor of Trumpet at Northwestern University and the Eastman School of Music, Ms. Butler has also held the positions of co-principal trumpet of the Vancouver Symphony Orchestra, principal trumpet of the Grant Park Symphony Orchestra and acting associate/assistant principal trumpet of the Houston and St. Louis Symphony Orchestras. Ms. Butler has performed with conductors including Solti, Abbado, Leinsdorf, Copland, Bernstein, Ozawa, Eschenbach, Marriner, Mehta. 
Ms. Butler has taught and performed world-wide with orchestras, wind ensembles, chamber groups, and in recital. Highlights include performances of 'Carmen Fantasia' for two trumpets and orchestra in Seville, Spain, a twenty-concert tour of Japan, and solo appearances in the Forbidden City in Beijing, China; Sibelius Academy in Helsinki, Finland; and Italian Brass Week in Florence, Italy. 
Ms. Butler has been featured artist with the International Trumpet Guild, the National Trumpet Competition, and the Mostly Mozart Festival in New York. Currently soloist and co-principal of Chicago's Music of the Baroque and the Chicago Chamber Musicians, Ms. Butler also performs every summer at the Grand Teton Music Festival in Jackson, Wyoming, as well as being a regular faculty member of the Music Academy of the West in Santa Barbara, California and the National Orchestral Institute in Maryland. 
Appearing regularly on WFMT's First Monday Live with the Chicago Chamber Musicians, and on WFMT Music of the Baroque performances, Ms. Butler has also recorded with the Vancouver Symphony, the Chicago Symphony Orchestra, the New York Philharmonic, the Grand Teton Music Festival, Music of the Baroque, and the Chicago Chamber Musicians. A former member of the Eastman Brass and Eastman Virtuosi for eighteen years, Butler has toured and recorded with the Eastman Brass. With Charles Geyer, Ms. Butler has released three CD's: With Clarion Voice (D'Note), Music for Two Trumpets and Organ (Gasparo) and Carmen Fantasia (Warner Bros). Butler also released Ladislav Kubik's 'Flashes of Light' in 2017. A proud and devoted teacher since 1980, Ms. Butler's students fill the top orchestras and universities. 
The ITG Honorary Award is given to individuals who have made extraordinary contributions to the art of trumpet playing through performance, teaching, publishing, research, and/or composition. The tradition has been to award persons toward the end of their careers. Honorary Award recipients include Herb Alpert, Maurice André, Ryan Anthony, Louis Armstrong, David Bilger, Mel Broiles, Clifford Brown, Vincent Cichowicz, Miles Davis, Roger Delmotte, Timofei Dokshizer, Maynard Ferguson, Dizzy Gillespie, Armando Ghitalla, Harry Glantz, David Hickman, Adolph Herseth, Gilbert Johnson, Philip Jones, Robert King, Clifford Lillya, Wynton Marsalis, Rafael Méndez, Fred Mills, Maurice Murphy, Robert Nagel, Uan Rasey, Carole Dawn Reinhart, Ronald Romm, Renold Schilke, Charles Schlueter, Doc Severinsen, Bobby Shew, Susan Slaughter, Philip Smith, Marie Speziale, Edward Tarr, Clark Terry, William Vacchiano, Allen Vizzutti, and Roger Voisin.
(Source: Jason Bergman)