Gary Barrow presents pedagogy lecture
Gary Barrow, retired Professor of Music at Arkansas Tech University, presented two lectures this fall entitled Some Thoughts on the History of Trumpet Pedagogy.
Professor John Rojak was host for the October event on the campus of the Steinhart School at New York University. Dr. James South was responsible for hosting the lecture a month later at Southwestern Oklahoma State University. Included were historical images dating back to the time of J.B. Arban and a collection of vintage instruments including a 1930 Conn Vocabell trumpet, a 1936 Martin Dansant trumpet, 1918 Conn Wonder cornet, and Holton Herbert L. Clarke cornet from 1925.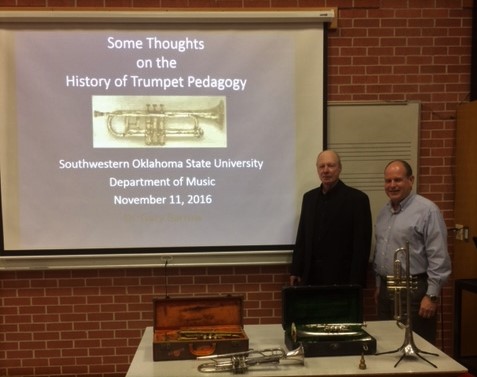 Much of the information presented was garnered from research related to an article published in the International Trumpet Guild Journal Pedagogical Topics column in 2010. A number of campuses have hosted the presentation including the University of Minnesota, Kansas University, the University of Texas at Arlington, and the University of Wisconsin-Whitewater. Future lectures can be scheduled through his website at www.betterbrass.com.
Source: Gary Barrow, retired Professor of Music at Arkansas Tech University, Russellville, Arkansas